One thing I love about reading books is the ability to see the world through someone else's eyes and sometimes experience situations that are light years away from my daily reality.
As a business entrepreneur, I have read dozens of books on leadership. Still, I have found that often, they lack relatability. They feel impersonal, too idealized, and not always applicable.
Today's book is not one of them, despite being from the former captain of a submarine. How can that be relatable, you may ask?
---
Turn the Ship Around!, David Marquet
Who hasn't dreamed of being the captain of a US submarine? I haven't either. But I have wondered what it would be like.
Submarines are incredibly complex pieces of machinery with countless things that can go wrong at any time. Keeping them up and running is a daunting task.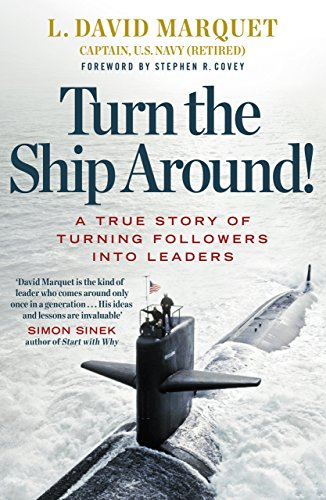 It usually takes a team of 130+ staff to operate a submarine, not unlike a business organization of similar size, but with one significant difference; a failure of any critical part of the submarine leads to casualties. Organizational performance is literally a matter of life and death.
Turn the Ship Around! is the story of how David Marquet, former captain of the submarine USS Santa Fe, transformed the culture of an under-performing organization into the most awarded crew of its time.
We assume that the army is all about authority and obedience. "If my company were like a squadron, I would give orders, and my staff would obey. Leadership would be easy", you might think. They are, of course, central tenets of the military code, and disobeying an order is a severe offense. But military operations don't always go according to plan, and officers are often confronted with unplanned situations. They need to be reactive, quickly and competently assess problems, and proactively solve them while minimizing impact. In short, they need to be leaders, and they need to be empowered.
For Marquet, empowering is not about conferring authority. It is about relinquishing control to his staff and allowing them to make meaningful decisions through competence and clarity.
When he took over command of the USS Santa Fee, he inherited a culture that was deeply rooted in top-down leadership, resulting in a lack of initiative and a complete absence of individual ownership and accountability. Changing the culture from a Leader-Follower model to a Leader-Leader form of leadership was no easy task.
In this book, Marquet takes us on board his submarine as it goes through its transformation, and shares with us the system he has developed over the years. Below are a few of the methods he recommends;
Control
find the genetic code for control and rewrite it
turn passive followers into active leaders
resist the urge to provide solutions <= that's really hard!
Competence
take deliberate action
don't brief, certify
specify goals, not methods
Clarity
use guiding principles for decision criteria
encourage questioning attitude over blind obedience
There are as many definitions of leadership as books on the topic. For Marquet, leadership is "communicating to people their worth and potential so clearly that they are inspired to see it in themselves."
We may not be captains of submarines, but we are leading complex lives, and there is without a doubt a thing or two we can learn from a leader of leaders.
---
---